About us
Get to know Kalasgodis a bit better.
The Swedish trading company Eric Ericson was founded in 1917. Sales of confectionery were at the beginning carried out nationwide via horse and carriage.
In 1964, the company began to import sweets from factories in Europe. Classic candy such as Crocodile Tears, Double Dip and Refreshers were launched in Sweden.
In 1987, however, it was time for a new family to take care of the company. The Hjärner spouses respond to an advertisement published in local press about business transfers and thus enter the candy industry. With new ideas the product Banana Skids is developed which becomes a success. Meanwhile, confectionery in travel tins and the liquorice lollipop Bloody Jasper continues to sell out fast.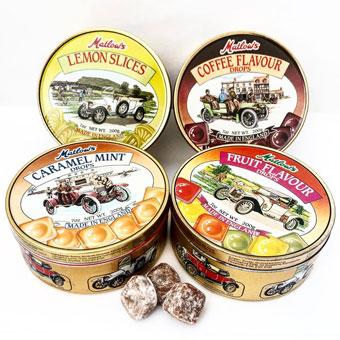 During the 90s, the name Kalasgodis emerge for various projects. Around the same time, the business moves to its current premises in Kungens kurva, a short drive south of Stockholm city centre.
Kalasgodis is registered as a trademark in 2009, which is the name thar is used more and more frequently when the daughters Hjärner takes a step into the company.
Today we are still a private owned small family business that imports sweets from factories in Europe for further sales in Sweden. We offer an exciting assortment of quality candy that has been carefully selected to fit all tastes to all occasions. With our experience and love for sweets, we constantly try to develop our range and adapt to current needs and trends.
We want to offer affordable delicious sweets for everyone
without having to compromise on quality

Quality
In the long run, quality is of the utmost importance at every stage. That is why we at Kalasgodis always strive to maintain a good quality in our work. This means that we constantly have dialogues about taste & quality together with both customers and suppliers. Above all, we carefully select sweets for our assortment and ensure that it comes from approved quality factories in Europe. It is equally important that the factories, as well as the products, comply with the Swedish Food Agency's regulations.

Always joyful
The Swedish word Kalas is a noun for party, however it has other significates even if we enjoy a party once in a while. According to the Swedish Academy's glossary, Kalas also means something "excellent" which, in short, is a really good description. "Yay what a Kalasgodis"! We wish to spread that joyful experience with our selected quality candy for all tastes to all occasions large and small.

Always delicious
Over the years we have launched a lot of yummy classic candy that we are really proud of. Therefore, we do our best to find new quality sweets that we hope will follow the same good future. There are really a lot of amazing sweets around the world to discover. We select especially delicious treats that we believe can contribute well to the wide range of sweets sold in Sweden in the end. It is not always an easy task to get all pieces to fall into place. But thanks to our experience and love for sweets, we are doing our best.
Please get in touch if there is anything further you are wondering about Kalasgodis and our range of yummy quality sweets.